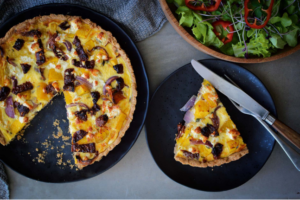 Real Man's Quiche
Whoa – of course they eat quiche!
Serve this up! hot out of the oven or it may be a late night sneak out of the refrigerator.
Side of pan fried potatoes is more likely welcomed than a garden salad but – you may get away with both.
Add chunks of ham or precook some bacon…add this to the egg mixture!
Mustard on the side and or I love cranberry sauce with everything these days!
Ingredients
400g butternut pumpkin, diced into 2cm chunks
1 red onion, cut into eighths
1 tbsp honey – maybe
2 tbsp olive oil or butter
Pinch sea salt
1 tbsp thyme leaves
50g + goats cheese
6 – 10 sun-dried tomatoes 4 chunked regular tomatoes
6-8 large eggs
Black pepper, to taste
½ cup milk, heavy cream, almond (your choice)
Pastry
200g wholemeal spelt flour
60g chilled butter or ghee, cut into cubes
¼ tsp sea salt
50-60mL chilled water
Preheat the oven to 180°C. On a baking tray, toss the pumpkin and red onion in the honey and olive oil. Season with sea salt and bake for 15 mins.

In a food processor(?) mix the flour, butter and sea salt on a high speed until a crumb forms. Gradually add the water until the pastry comes together into a firm dough (that holds together but doesn't stick to your fingers). Cool in fridge if necessary before rolling.

Grease a spring form quiche tin and roll the pastry out onto a piece of baking paper so that it will cover the base and sides of the tin. Invert it into the tin and trim the sides and prick the base 4 or 5 times with a fork. With the baking paper on top, fill with pastry weights (?!) and blind bake (lol) for 10 mins or less on the bottom shelf of the oven.

Once the pastry is done, add the roast pumpkin, thyme leaves, goats cheese and sun-dried tomatoes to the pastry case.

Whisk the eggs, pepper and milk together in a small jug. Pour over the vegetables and bake for 15 – 20 mins or until the egg is set in the middle of the quiche.




Any guy will love this! Ya – he's got to like goats cheese…