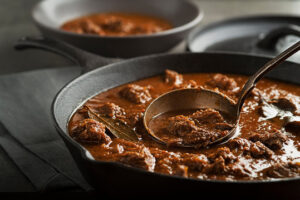 Honoring the Ancestors – Hungarian Goulash
2 ½ pounds of stewing beef chunk cubed
3 tbsp olive oil
3 large onions minimum sliced
4 roma tomatoes diced
½ tsp celtic or Redmond salt
1/2 tsp – 1 tsp black pepper
3 tbsp of sweet or hot paprika
5 cloves of garlic minced or grated
1 tsp crushed caraway seeds
3 bay leaves
Saute onions in olive oil until soft and clear
Brown the stewing beef add to the onions
Add salt, pepper,  garlic, paprika, caraway seeds, bay leaves
add tomatoes and bay leaves
Simmer for 2 hours until tender – add water as needed to create sauce.
Serve with buttered boiled potatoes.
Dollop of sour cream
Side of Saurkraut by Kuhne – rinsed, browned in olive oil, pepper, 2 bay leaves
Optional – add peppers or carrots to the goulash
Dress like a gypsy and serve to your magyars.