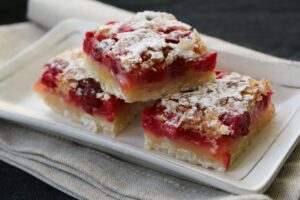 Clayton's Non- Faux Cranberry Lemon Squares
Repeated requests means these have to be good!
Very festive with the cranberries!
Feeling guilty ? well we talked about this on the youtube channel Faux Christmas Treats!
Base:
6tbsp butter room temp
1/4 c sugar
1 c all purpose flour
pinch salt
Topping:
1 c sugar
2 tbsp all purpose flour
1/4 tsp baking powder
1/4 tsp salt
2 large eggs
grated zest of 1 lemon
juice of 1 lemon or 3 tbsp
1 1/2c fresh or frozen cranberries
1/2 c shredded coconut ( optional but I like it)
icing sugar for dusting
Oven 350 degrees F
Combine butter, sugar, flour, salt with fork or pastry cutter until crumbly.
Press into 8X8 buttered or parchment paper pan.
Bake 8-10 minutes or until pale golden around edges.
Next combine, sugar, flour, baking powder, salt add eggs lemon zest, lemon juice and stir until blended and smooth.
Sprinkle the cranberries and coconut over the base then the lemon filling over top of this.
Bake for 30-35 minutes or until golden and set.
Cool completely in pan and then slice. Some like to freeze then slice.
Sprinkle/dust with icing sugar before serving!
YUMMMMM
Thanks CD for the recipe from DinnerwithJulie.com