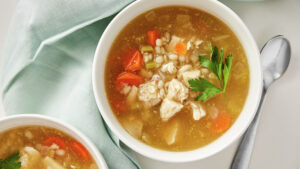 My Mom's Healing Turkey Soup
Turkey remnants – bones, shredded meat, leftover drippings
Cover with cold water by 1" to create the soup base or stock
Quality salt, pepper, garlic cloves grated
Parsley – half fresh bunch
4 – 6 celery stalks plus leaves
2-3 large onions well chopped
tsp dried thyme
1-2 bay leaves
3-4 roughly chopped carrots
2-3 chopped potatoes
optional : diced tomato or spinach variations
vegetable bullion, maybe sage, poultry dressing to taste
Method
Create the turkey stock. Bones, neck, giblets, not the liver (or skin).
Thank this turkey for being part of a special and nourishing meal.*
Water, salt, pepper – strain out bones and shredded meat if it has become neutral inflavour after a minimum of 2 hours.  Skim froth during the process.
Onions and celery to be added with all herbs.
Add the potatoes and carrots, maybe green beans, white beans or peas later, depending on how solid you would like these to remain in the soup. Continue simmering until vegetables are desired consistency.
Old Time Method: Place all in a pot at the beginning and simmer for 2-3 hours.